METERING & BILLING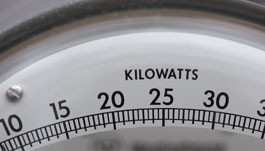 It is often said: You can't control what you can't measure. This phrase was possibly first spoken by a plant manager desperately trying to control electric usage, or a landlord attempting to track which of his many tenants has a costly water leak.
Though often overlooked, metering is an invaluable tool in successful energy management. Once you are able to determine what is used, by whom and when, the rest of the management process becomes far less complicated. Metering enables the property owner to bill tenants for what they use, shifting the motivation to conserve back to the actual user. Metering in a manufacturing environment provides the data required to quantify utility costs for various product lines.
The "Smart Meter," first developed for the utility company, is now utilized by the customer to make better consumption and purchasing decisions. These meters are capable of measuring your usage in as little as five-minute intervals. With the ability to "profile" your usage and access that usage data remotely and in real time, energy and utility management is taken to a higher level.
Profile Energy has the understanding and expertise to guide our clients to the most cost effective metering plan. Once in place, we put this metered data to work for you by shifting loads to reduce cost, and increasing revenue with timely, accurate tenant charge-backs.
As our energy and utility resources become increasingly scarce, we will have no choice but to measure what we use in a different way. You can control what you measure.